Thanks to Valhalla and other members of LIFO, a bunch of fine Debian folks have convened in Laveno, on the shores of Lake Maggiore, for a nice weekend of relaxing and sprinting on various topics, a SnowCamp.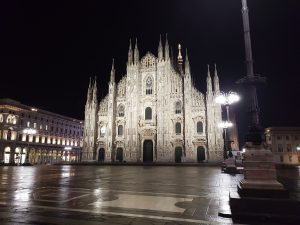 This morning, I arrived in Milan at "omfg way too early" (5:30AM, thanks to a 30 minute early (!) night train), and used the opportunity to walk the empty streets around the Duomo while the Milanese .oO(mapreri) were waking up. This gave me the opportunity to take very nice pictures of monuments without people, which is always appreciated!
After a short train ride to Laveno, we arrived at the Hostel at around 10:30. Some people had already arrived the day before, so there already was a hacking kind of mood in the air.  I'd post a panorama but apparently my phone generated a corrupt JPEG ?
After rearranging the tables in the common spaces to handle power distribution correctly (♥ Gaffer Tape), we could start hacking!
Today's efforts were focused on the DebConf website: there were a bunch of pull requests made by Stefano that I reviewed and merged:
I've also written a modicum of code.
Finally, I have created the Debian 3D printing team on salsa in preparation for migrating our packages to git. But now is time to do the sleep thing. See you tomorrow?
My attendance to SnowCamp is in part made possible by donations to the Debian project. If you want to keep the project going, please consider donating, joining the Debian partners program, or sponsoring the upcoming Debian Conference.