Over the three days of the MiniDebCamp at FOSDEM, members of the DebConf Video team, and their friends, have assembled to participate in a sprint.
MiniDebCamp @ FOSDEM 2020
I've been (very pleasantly!) surprised by the number of people present at the MiniDebCamp, as well as the variety of topics they were working on. A great atmosphere, the welcoming environment provided by the HSBXL, and the low-key organization were something that I think other event organizers can get inspiration from: just get a room, and basic amenities (power, tables, seats, heating), and this will turn into a successful event!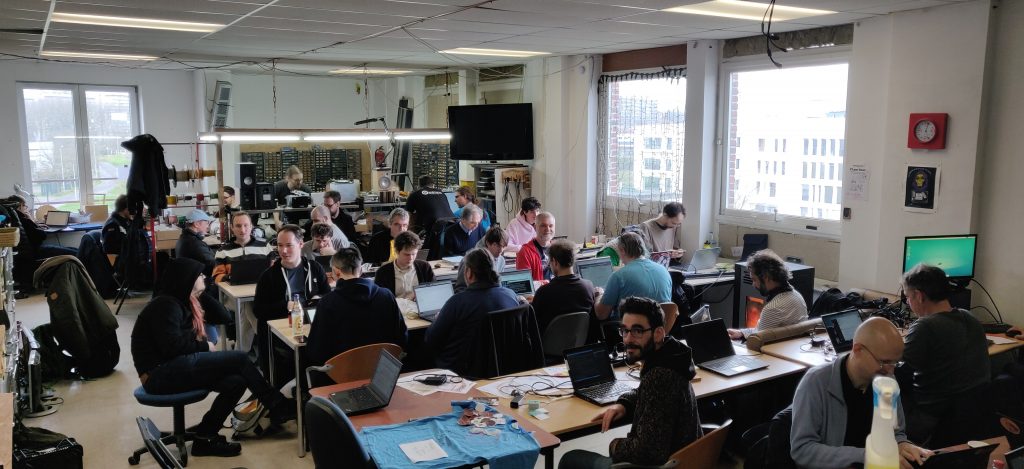 On to what the Video Team members (and their friends!) did:
highvoltage
Jonathan spent time setting up the Debian PeerTube instance to accept videos, as well as adapting our video upload scripts, which feed from our video metadata repository as well as our main video archive, to upload our videos to PeerTube.
olasd
My primary contribution to the Video Team sprint was bringing our team hardware from Paris for others to play with. I had a conversation with tzafrir to review the video team list of requirements for DebConf 2020, and I helped phls to get up to speed on our ansible setup.
Most of my time at the MiniDebCamp was actually spent getting a local test setup for piuparts.d.o running, so I can be more confident making changes to Debian's piuparts infrastructure, which I've adopted a few weeks ago, without breaking it too much (considering that piuparts is in the critical path for testing migration, bugs can become very noisy very quickly).
phls
Paulo spent time to get up to speed on our ansible setup; His goal was to become more confident setting up video recording and streaming for the upcoming MiniDebConf in Maceió at the end of March. He used this opportunity to re-master our MiniDebConf video mixing/recording PC under Buster, and using our current (post-DebConf19) ansible playbooks.
tumbleweed
Stefano worked on our NeTV2, a recent Open Hardware, FPGA-based HDMI device by bunnie that the Video Team acquired a few months ago. He worked, with the help of Tim from TimVideos, as well as others, on getting up to speed on the FPGA toolchain the board uses, and trying to get the recently developed PCI-e capture feature to work.
…and friends of the Video Team!
Doing a sprint in a "shared" context is an opportunity to get more collaboration going. I've been quite happy to see that Tim Ansell and folks from antmicro decided to join the MiniDebCamp to work on improving the cool open hardware video projects that we're either currently or looking forward to using!
Team-wide conversations
Other members of the team (h01ger, ivodd, nattie, tzafrir, urbec, …) were present during the event. While most of spent their time was spent working on their other respective areas of interest (in no particular order, the organization of DebConf 2020, Release Team work, Reproducible Builds, …), they contributed to various video team-related conversations during the sprint.
For instance, we've discussed the setup for DebConf2020, and we've brainstormed on a list of prospective hardware purchases, to try to make shipping our hardware to upcoming events in Europe and elsewhere easier.
Now that we're all at FOSDEM, we'll surely come across some interesting topics for discussion!
Acknowledgements
Many thanks to the folks at HSBXL for hosting us, to Holger Levsen from following through with organizing the MiniDebCamp, to Kyle Robbertze for setting up the Video Sprint in the first place, even if he could not join us (we miss you paddatrapper!), and to the many donors and sponsors of the Debian project! Holding these sprints would be impossible without your support.